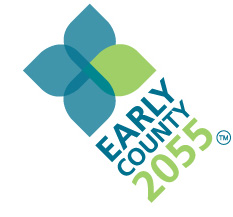 Early County 2055, an exciting economic revitalization effort in southwest Georgia, is an undertaking initiated by Charles B. Rice, Sr., who with his wife Catherine founded the Charles and Catherine B. Rice Foundation and decided to rejuvenate the town and area that was once his home.


SITUATION:

Like many rural areas in the country, Early County Georgia was once prosperous and thriving. However it has felt the impact of a changing economy. The shift from a primarily agrarian system of small farms to a more diversified economic structure of farming combined with service and manufacturing has been slow. People have migrated to larger cities, and industry has been slow to locate in these once prosperous communities. The opportunity to turn this around came with the generosity of the Rice Family Foundation grant.

Early County 2055 was established; intense economic planning sessions involving the community were conducted; and a 50-year Economic and Community Development Master Plan was created and is now being implemented.

This effort quickly required a multi-faceted, integrated branding and marketing awareness campaign that included brand development, community awareness, a well-targeted media outreach program, collateral and web graphic design and development, and general marketing communications activities.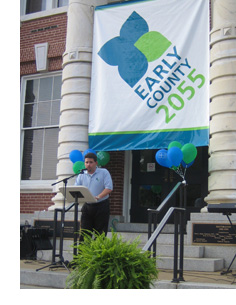 OBJECTIVE:

The short and long term goals of Early County 2055's Marketing and Branding Program are to expand local, regional and statewide awareness of the initiative; build support, participation and enthusiasm in the county for the project and sustain ongoing stakeholder involvement.


STRATEGY AND IMPLEMENTATION:

The Grazier Design Works (GDW) team, working with the executive director, project manager and steering committee, created a comprehensive marketing strategy that is building recognition in the community, region and state. This strategy includes branding, identity development, logo design, integrated marketing communications, website design, collateral, media relations and advertising— those actions that are needed to strengthen the message, drive the awareness and grow loyalty in the area. It has been systematically rolled out according to the business strategy of the project and is the backbone of the organization's marketing effort.

GDW supported EC2055 by developing their marketing collateral, implementing a comprehensive media awareness campaign and overseeing all of the public relations activities needed to help make this week-long community event a success. Deliverables included; extensive press coverage, advertisements, banners, promo materials.